New Japan Pro Wrestling is Awesome
Spoiler alert: This will be a really positive review of what I consider the absolute best wrestling show I have seen since my return to wrestling. Let me give you a bit of a background on my venture into New Japan Pro Wrestling. Prior to Finn Balor, I had no idea there was a Japanese promotion and I only knew about it because of his work in NXT. Just 4 or 5 years ago, I was unsure of any product outside of WWE. I was, to be completely honest, the perfect WWE fan. However, there are two wrestlers that changed that for me.
Kenny Omega and Kazuchika Okada
These two men changed the game completely for me. I started watching New Japan Pro Wrestling immediately following their Wrestle Kingdom 11 matchup. I was captivated by their work. As many of you know when listening to the podcast, I'm not a huge fan of many things WWE does. I often find myself bored with the content or interested in the wrestlers and their characters. I find many of the guys to be entertaining, like Seth Rollins, Finn Balor, Braun Strowman, The Uso, and the general people everyone enjoys, but Omega and Okada made me feel like a kid again. So, when this main event was announced for Dominion 2018, I marked out like a huge fan boy. This was a preface to exactly how I'd feel during the entire show. So, I got my yeti full of coffee, a blanket, headphones, and I strapped in for an amazing show.
NJPW is my Favorite Promotion
I have said this on the podcast before, and Joey has joined me in this opinion – NJPW is the best promotion on the planet and is my absolute favorite. If you have not seen this show yet, you must. It is incredible and just so damn good. So, strap in because I am going to review this classic wrestling show in the most honest and honestly bias way possible.
I review my wrestling shows with a Meltzer 5 Star rating that I refuse to break. I gauge my ratings based on technical wrestling, entertainment value, storytelling, and a general thought of whether I was entertained or not during the match. Feel free to agree or disagree with my ratings!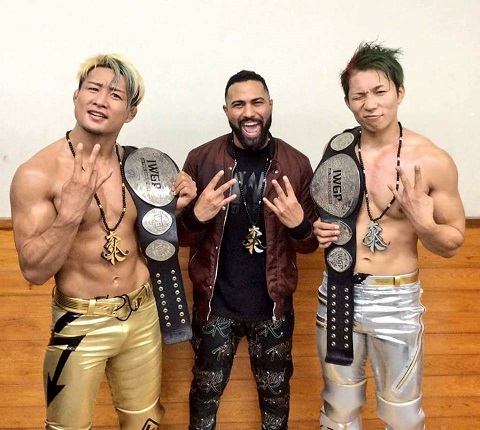 Roppongi 3K vs El Desperado & Kanemaru
I thought this was a perfect opener to the show. It was quick, entertaining enough, and really showed off all four wrestlers. Sho and Yo are really developing into fantastic wrestlers. I featured Rocky Romero on this picture, but he did not accompany them to the ring. I don't have much to say about this match, but don't take that as it not being a good match – it was. R3K retained in a shocking end to a very good opening match.
RATING: 3.5/5
Juice Robinson & David Finlay versus Jay White & Yoshi-Hashi
This match was… okay? Jay White is fine in the ring and Juice Robinson is really, really good. However, I feel like I've seen this match-up, in some variety, at least a dozen times. I was happy to see Juice pin Jay White to end the match which has to be setting up Juice Robinson vs Jay White for the IWGP United States Championship in San Francisco. I'm very much looking forward to that match.
RATING: 2/5
Minoru Suzuki & Zach Sabre Jr vs Tomohiro Ishii & Toru Yano
One of the treasures I have found in my new fandom of New Japan Pro Wrestling is Minoru Suzuki aka "Murder Grandpa." Suzuki is such a great striker, good wrestler, and one of the truly terrifying wrestlers that exist in not only New Japan, but the entire wrestling world. I have also began to enjoy Zach Sabre Jr quite a bit. He wasn't someone I loved during the WWE cruiserweight classic, but I really enjoy him now that I have seen him put on a stellar match with Okada amongst others.
This was a very entertaining match and I thought it was quite good. Despite Yano being thoroughly uninteresting in the ring, Ishii and Suzuki having a back and forth striking contest made up for Yano being inept. ZSJ ends up tapping up Yano, because of course he did, but that wasn't the story of this match. Afterward, Ishii and Suzuki end up fighting all the way to the back after being broken up by the Young Lions on the side of the ring. This feud, once it finally starts, will be hard hitting and amazing.
RATING: 3.5/5
NEVER Openweight Championship: Goto (c) vs Taichi vs Michael Elgin
This is a controversial match due to the ending. A ton of controversy follows Michael Elgin and he was the eventual winner of what was, in my opinion, the worst match on the card. I can't write a lot about this match because there just wasn't anything that great about it. Taichi was very sloppy most of the match, although I featured his image because his entrance is cool. Michael Elgin is very, very good in the ring, but the pacing of the match was really uneven. Goto did not seem to get much work in as the match feature Michael Elgin and Taichi heavily. This wasn't a bad match, but it wasn't a particularly entertaining one.
RATING: 1.5/5
IWGP Heavyweight Tag Team Titles: Young Bucks vs Evil & Sanada (c)
You just know I loved this match, don't you? Sure, there is some bias behind it because I'm a huge fan of the Young Bucks. I was a bit concerned going into this match, however, because Evil and Sanada work a much, much different style than the Young Bucks and that concerned me about the quality of this match. This match is full of treasures if you are new to NJPW. Evil, Sanada, and the Young Bucks are some of the most entertaining wrestlers in the world. Sure, you already know that about the Bucks, but you may not know Evil and Sanada. Well, before I review the match, let me just show you these guys.
Look at how cool these guys look even in this older picture! Seriously, Sanada is amazing talented as is Evil. Both guys are, in my opinion, some of the top performers in the industry. Their style is a bit heavier and slower, but that doesn't hinder their performance against teams like the Young Bucks, which we saw in this matchup.
The Bucks hit their typical moves, but there was a lot of storytelling in this match.
The Bucks hit their typical moves, but there was a lot of storytelling in this match. Matt continued to sell his injured back, but Nick landed his foot straight to a ring post which gave him the opportunity to sell his foot throughout the match. This ended up being the story of the entire match – could the Bucks not only get through the match in one piece, but could they survive their way into winning the IWGP Heavyweight Tag Team titles?
Yes, yes they did and no, it didn't seem like just booking the most popular team to win. I enjoyed this match and was very pleased with the result. This is definitely one of the standout matches of the show.
RATING: 4/5
Hiroshi Tanahashi, Jushin Thunder Liger, & Rey Mysterio
vs
Cody, Marty Scurll, and Hangman Page
I had to use 3 lines just to tell you who was in this match, but this was definitely an interesting match-up going in. In this match you had absolute legends of the industry versus up and coming talented in Scurll and Page alongside ex-WWE vet Cody Rhodes. The match was not as entertaining as I expected it to be. A lot of the match was worked in the Cody Rhodes style which is slow, methodical, and often a bit dull. This worked exactly how it should for Bullet Club, but it definitely didn't help the legends. All three of the legends work a much faster pace, so cutting of the ring and preventing tags definitely hurt.
There was a fun moment where Tanahashi and Cody traded off a display of push-ups which was thoroughly entertaining and quite funny. Overall, the match is watchable, but not great. It's one of the few duds on the card. Bullet Club wins in a shocking result and hopefully this is not the last time we see Rey Mysterio in New Japan. He looked absolutely amazing. It's crazy he is such an amazing wrestler at this point in his career, but he still looks great.
RATING: 2.5/3
IWGP Jr Heavyweight Championship: Will Ospreay (c) vs Hiromu Takahashi
As a result of the Best of the Super Juniors tournament, Hiromu Takahashi was given a chance at Will Ospreay's championship. I had extremely high hopes for this match and boy did it deliver. Takahashi has had one of the best week's in wrestling ever. He and Ishimori put on an amazing match less than a week prior to this match-up and he then put on a standout match with Will Ospreay. There was quite a bit of psychology match in this match that was completely different than we would expect from an Ospreay match.
During this match, Takahashi clearly looked like the man that would benefit from a high pace match will Ospreay was attempting to slow down the match, use submissions, and keep his opponent on the ground. We saw many of his spots, but he could never land the Os-cutter. Takashi was beat up for a lot of the match, but his character work was excellent. While exchanging strikes, he looked like he was craving more and this really worked into his favor not only for the match, but for the entertainment factor.
Takahashi ends up hitting Ospreay with two timebombs after multiple attempts at tapping Ospreay out with the triangle choke hold. Takahashi smartly continued to work the neck of Ospreay leading to the result he wanted as we now have a new IWGP Jr Heavyweight Champion. This was the first of the big matches and it absolutely delivered.
RATING: 5/5
IWGP Intercontinental Championship: Tatsuya Naito (c) vs Chris Jericho
Kyle and I both picked this match to deliver as the match of the night, however, it did not quite live up to that hype. This match was very, very good, but it was sandwiched between two absolute classics. Chris Jericho made his entrance in some of the strangest gear I have ever seen including face paint while Naito began his entrance in a suit. Naito wearing a suit was something we would see a lot of and this is something to really keep in mind while watching the match.
Jericho attacked Naito from behind and absolutely brutalized the man prior to the match ever starting. Naito took spots through tables, on tables, bled, and was brutalized on a guard rail. Prior to the match even starting, we saw an immense amount of action. Jericho has been so interesting in japan because he has shown only a brutal side of himself. He looks insane, uncontrollable, and like an absolute monster.
The most curious thing about this match, in my opinion, is that Naito was booed so very, very often despite Jericho trying his hardest to get booed and work heel. However, Osaka really seemed to hate Naito who has worked very well as a heel on multiple occasions. Jericho worked very well for a 47 year old man and ended up winning his tenth intercontinental title with a classic heel win. He distracted the ref, delivered a low blow, and then hit a codebreaker to pick up the title. Great match, absolute must watch if you're a fan of either of these guys.
RATING: 4.5/5
IWGP Heavyweight Championship: Kazuchika Okada (c) vs Kenny Omega
2 out of 3 falls
I am going to preface this part of the review by saying that if you have not watched this match yet, you need to go do it right this minute. The story of this match, and saga, is that these two are equal competitors, but Okada has the biggest title in their company. Kenny has beaten Okada before, but this in the G1. He has never been able to defeat him for the IWGP Heavyweight Championship, the one title the Best Bout Machine has never held in New Japan Pro Wrestling. Let's talk about both men's stories before I review the match.
Kazuchika Okada
Okada is, in my opinion, the greatest champion in the modern era of professional wrestling. The man held the belt for 719 days, had 12 consecutive title defenses, and has put on some of the absolute best matches of this decade. Okada's story is that he continued to get more confident and cocky with each successful defense. He was so confident that he would win in this match, that he spent his time fishing instead of training, so his conditioning would not be where it typically is. Okada is known for having long, successful title defenses, and it can be argued that he is truly the best wrestler in the world.
Kenny Omega
It seems to be nearly unanimous among wrestling critics that Kenny Omega is the best wrestler in the world. The man is incredible on the mic, flawless in the ring, and can tell a story beyond what nearly anyone in the world can do. His storytelling in-ring is supported by the storytelling from the web series Being the Elite. If you follow Kenny, the Bucks, Being the Elite, and the Bullet Club, you know this story. Kenny reunited with Ibushi through an exchange of saving each other from the hands of Classic 80's Villain, Cody. He lost leadership of Bullet Club to Cody at Supercard of Honor, his best friends left him, and they cannot figure out how to repair the friendship. Kenny lost everything except Ibushi, his Golden Lover.
Now that you know the story, lets get on to the match
The match started as you would expect. Both men exchanged moves, countered each other, and looked completely even. This would be the story throughout the match that played the biggest part of what made it so compelling. Nearly flawless execution in the first flaw, Okada took advantage of a roll up opportunity and took the first pin. We now have the stage set for Kenny to need to win two straight falls against the greatest champion in professional wrestling. During this fall, Omega hit the barrier with his ribs and this would play into an injury sell for the rest of the match.
Okada was confident. He was looking across the ring at Omega as if it was obvious that he had him beat and would eventually get the sweep. Throughout this second fall, Okada would basically mock Omega, kick him around, and continue to look like he was obviously dominant. Okada would eventually hit the one winged angel and capture the second fall. Both men laid nearly motionless before the third fall began.
The Third Fall
This part of the match is where it all tied together. The third fall was an exchange of two wrestling legends trying to beat each other and walk out champion. You could feel how exhausted they each were. Okada crumbled while trying to deliver a rain maker finish, a call back to the Dominion match from last year. Kenny was desperate and you could tell. He wanted to do anything and everything to beat Okada. Finally, Okada tried to hit Kenny with a rainmaker, but it was countered into the quickest one winged angel you'll ever see. Both men were doing anything to beat each other.
Kenny hits one last one winged angel and finally, he vanquished his greatest rival. He beat an unbeatable streak and stopped a legendary title reign. Matt and Nick joined the celebration and in the greatest moment of the evening, Kenny pushes the belt aside to hug his friends before celebrating his victory. In what I consider to be the greatest moment in professional wrestling that I've witnessed live, he regained what truly mattered to him. He regained his best friends, his Golden Lover, and finally defeated the man who was the final hurdle in becoming the top guy in New Japan Pro Wrestling. Moments like this make wrestling beautiful and worth watching.
RATING: 5/5 – The Greatest Match of All Time
OVERALL SHOW RATING: 5/5 – Greatest Wrestling Show I've Ever Seen
And that's all!
This event was absolutely wonderful and what I consider to be the greatest wrestling show of all time. The last 5 matches were of quality that I've never seen consecutively before. The entire showed also greatly tied in two title matches – the Heavyweight Championship and Heavyweight Tag Team Championship matches. All of the fans were rewarded with a great moment – seeing Kenny Omega held up by his best friends in the center of the ring, celebrating with the people he loves the most. Professional Wrestling is awesome, guys. See how Kyle and I did on our predictions for this show, but have no fear – we all won this weekend thanks to New Japan Pro Wrestling.
Follow Us To the Ends of the Earth